Book A Trek Online
1. Choose your trek and the date you want to begin your trek. You will see the exact price once you click on "Book Now" and choose your travel dates and how many there are in your group.
2. Once you have made your payment you will receive immediate confirmation and we will follow up with your guide information.
If you have any problem with your booking or if you want to book a market tour or a longer trek please contact us through our Contact Page
When you meet your guide you will decide together where you want to trek based on your interests and timeframe.
If you would like to book train tickets please fill out the form on the Train Page and we will check the availability and get back to you.
Choose what date you want to start your trek:
Searching Availability...
| | | | | |
| --- | --- | --- | --- | --- |
| Price per person | 1 days                | 2 days/1 night |   3 days/2 nights |  4 days/3 nights |
| 1 person | 41 USD | 90 USD | 140 USD | 195 USD |
| 2 persons | 37 USD | 86 USD | 128 USD | 170 USD |
| 3 persons | 37 USD | 79 USD | 116 USD | 170 USD |
| 4-5 persons | 30 USD | 71 USD | 105 USD | 142 USD |
| 6-7 persons | 26 USD | 68 USD | 93 USD | 129 USD |
Contact us for information and prices for longer treks, price for children or bigger groups. Or fill in our booking form above and you will see the prices.
All our treks are private.
You can add lunch in a local house, overnight stay in a local house, pick-up from the train station, additional transportation and a lot of other extra small services (Maybe a Birthday cake?)
Price includes, one private guide per group, entrance fee, food (1D=1 Lunch, 2D1N= 2 Lunch/1 Breakfast/1 Dinner, e.t.c), normal homestay (not incl. in 1-day treks), transportation back to Sapa after the trek and all taxes.
Price don't include transportation to/from Sapa, insurances or beverages.
If you are already in Sapa
You can book our tours directly at
our office:
Sapa Graceful Hotel

Opening hours:
Mon 7AM-8PM
Tus-Wed 7AM-5.30PM
Thu-Fri 7AM-8PM
Sat-Sun 7AM-5.30PM
Outside these hours you can still drop-off/pick-up luggage and use the shower, just ask Graceful Hotel's staff for a towel if you need one.
We look forward to hearing from You!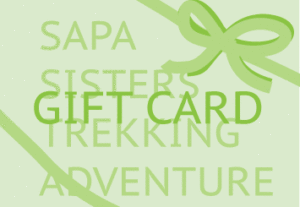 Sapa Sister's Gift Certificate, a perfect present to a traveller in Asia.